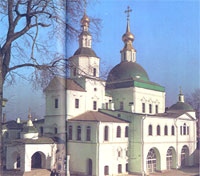 St. Daniel's Monastery was the first monastery built in Moscow. It was founded by St.Daniil, the Orthodox Prince of Moscow, the youngest son of St. Aleksandr Nevsky, the Orthodox Grand Duke, a figure famous in the history of the Church and State, and his wife, the righteous Princess Vassa. St.Daniil was born in 1261 in Vladimir-on-Klyazma, the capital of the grand duchy of Vladimir. At Baptism he was named in honour of St. Daniel Stylite.

The piety, fairness and mercy of Prince Daniil won him universal respect. In 1296 he was vested with power and conferred the title of "grand prince of all Russia". Prince Daniil tirelessly showed concern for the people of his principility and for capital city of Moscow. On the right bank of the Moscow River Prince St. Daniil founded in1282 the first monastery in Moscow. It had a wooden church named in honour of St. Daniel Stylite, his heavenly patron.

Now St. Daniil's Monastery is the center of Moscow Church events and festivities. The Monastery brought out religious literature and lithographs devoted to the cloister's memorable and jubilee dates. Restoration work on the icons was carried out of the restoration workshop of St. Daniil's Monastery. The painters save the ancient Russian iconographical traditions.